---
Control any engine with 2 cylinders, all the way up to 12 cylinders, thanks to:

12 injector pins
8 ignition pins
4 injector/ignition dual role pins

Access up to 30 auxilary pins (when setup for a 4-cylinder sequential engine):

8 dedicated auxiliary pins
4 shared e-throttle/H-Bridge pins
2 shared wideband heater pins
Up to 16 from spare injector and ignition drives

Any unused injector/ignition pins can be used as an auxiliary pin
All ignition and auxiliary pins are back feed protected.
14 analog inputs
10 digital inputs
4 temperature inputs
Dual knock inputs
2 trigger inputs
Dedicated ignition switch pin
2 x internal wideband lambda controllers
Dual e-throttle, with internal solid state throttle disconnect relays
5v sensor supply
CAN 1 input now supported via CAN connector
USB-C (cable included)
Connect directly to the ECU via built-in Wifi Access Point, or add it to an existing network (Antenna Included)
Dual CAN (CAN 1 on CAN connector, CAN 2 on header E)
GPS (antenna included)
512MB logging capacity
Ultra High Speed (250 Channels of Logging, up to 1kHz per channel, up to 100kSamples/s in total)
GPS Logging - up to 50Hz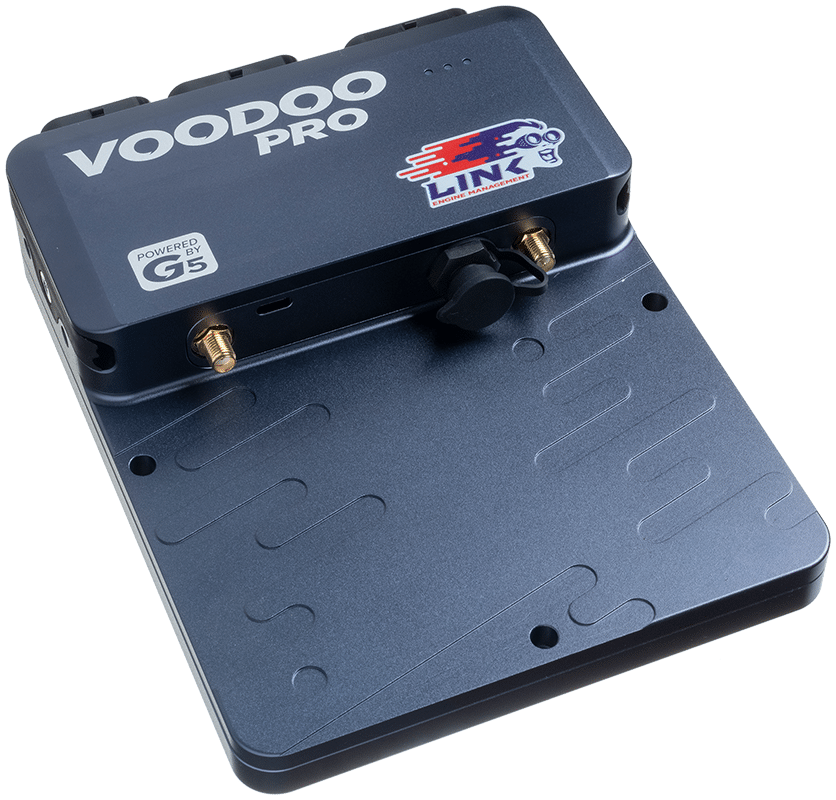 The G5 Voodoo Pro supports the following comms standards:
It is now possible to connect to your ECU using a standard USB-C cable, or alternatively by using WiFi.
You can now access CANBUS 2 via its own dedicated pins in Header E freeing up two Digital Inputs.
GPS connectivity can be initialised by simply adding a GPS antenna.