---
Tech — Power distribution module
Posted by Tony eigenseher on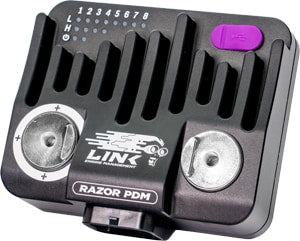 A Power Distribution Module: The Backbone of a Vehicle's Electrical System A Power Distribution Module (PDM) is a critical component of a modern vehicle's electrical system. Acting as a centralized distribution point for electrical power, it simplifies the wiring and connections required for various electrical systems in the vehicle. This results in reduced complexity, enhanced control, and monitoring capabilities, and increased reliability and safety. In this article, we will discuss the benefits of PDMs, the components and types of PDMs, and their installation and maintenance. LINK Razor PDM , Hardwire electronics , Ecu Master pmu16 and MoTec pdm15/30 to name a...
---
Posted by Tony eigenseher on
Emtron Manuals   EMtron KV8 ECU Manual   Download EMtron KV12 ECU Manual Download EMtron KV16 ECU Manual Download EMtron KV16M ECU Manual Download Here you can browse through each individual ecu and get an idea of functions as well as inputs/outputs to better suite your needs. EMTRON ECU's available here  
---
Posted by Tony eigenseher on
A CAN LAMBDA sensor, often referred to as an oxygen sensor, measures the level of oxygen in exhaust gases. This level is critical in obtaining the optimal air fuel mixture when tuning an engine. CAN refers to the Controller Area Network which acts as the 'nervous system' of a vehicle, enabling communication from one part to another. The lambda calculation determines the ratio between the amount of oxygen actually present in the exhaust compared to the amount that should have been present to obtain perfect combustion.  This air fuel ratio information which the CAN Lambda provides is essential for a tuner. The fuel input, power output and air fuel ratio...